How can I submit a Cracker Barrel Job Application?
If you are considering applying for  a job at Cracker Barrel, then don't hesitate. According to job sites Indeed.com and Glassdoor.com, 65% of employees at Cracker Barrel would recommend working for Cracker Barrel to friand. This is quite a igh number in the restaurant industry.
Which Jobs are available at Cracker Barrel?
To see which jobs are currently available in your area, visit the Cracker Barrel Careers website, at https://crackerbarrel.com/careers.
You can also go directly to the Jobs Search page here.
Once on the careers website you can choose your area of interest:
In Store Careers.
Home Office Careers.
Distrubution Careers.
Click on the "View Open Positions" button under either of these options.
Clicking on "View Open Positions" under In Store Careers will reveal a number of further choices, in this case:
Restaurant Manager
Retail Manager
Servers
Host/Hostess
Retail Sales
Busser / Dishwasher
Cook
Night Maintenance
Choose an option and click on "Jobs".
A page will open that lists the available jobs in your chosen field. You can narrow the jobs down by selecting a "Category" or "Location" in tehe drop down menu.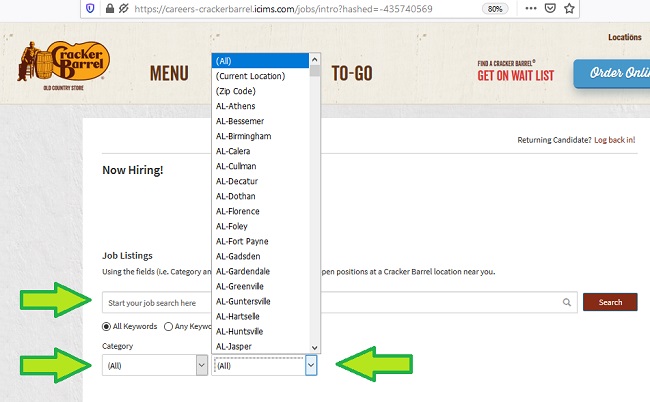 Then, click on a job offer that you want to apply for, and click on "Apply for this Job Online" on the next page.
You will then be asked to enter your email address. This is necessary to create your job profile and to begin the application. You will be taken through the process, and be asked to upload a resume.
How can I check my status for a Cracker Barrel job I've applied to?
You can check your status, simply by logging in to your profile on the career page and reviewing your candidate dashboard, which displays all positions that you have applied to, and the status of each one.
I did not finish my Cracker Barrel application. How can I complete it?
You can finish your application on your dashboard in your Cracker Barrel online profile. In the "Actions" column, you will see a "Continue Application" button next to jobs with an incomplete application. Click this button to finish your application.
Alternative Cracker Barrel Jobs Listings.
A good choice is always to just go and visit your local Cracker Barrel restaurant and ask to see a manager. This shows initiative and gives your prospective manager a good first impression.
Alternative websites that lists Cracker Barrel Jobs are:
https://www.indeed.com/q-Cracker-Barrel-jobs.html
https://www.linkedin.com/company/cracker-barrel/jobs
https://www.glassdoor.com/