Resetting your Cracker Barrel Employee Password.
How do I reset a forgotten Cracker Barrel Front Porch password?
If you have forgotten your Cracker Barrel associate password, you can reset easily it through the Front Porch portal itself:
Visit https://frontporchselfservice.crackerbarrel.com/
On the main login page, find the "Reset Front Porch Self Service password?" Click Here" link and click on it. The direct link is here: https://frontporchselfservice.crackerbarrel.com/forgotpassword
On the next page, you are asked for your Cracker Barrel Employee ID. Enter it and click on Submit.
Then, follow the instructions to reset your Cracker Barrel password.
After entering your Cracker Barrel User ID/username, you will be asked some security questions. Answer these questions and you can then choose a new password.
You can then sign in using the password you chose.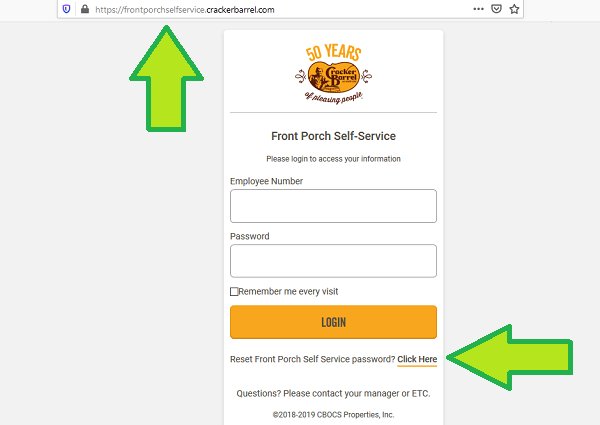 Contacting Cracker Barrel HR to Reset your Password.
Alternatively, you can send an email to: [email protected] with your name, Cracker Barrel store location, as well as your employee number.
The Cracker Barrel Achievers HR department can also be emailed on: [email protected], for issues regarding password resets, work schedules, or Cracker Barrel income statements.
You can also call the Cracker Barrel HR department on phone number: 1-877-846-1212, to solve your issue.
Alternatively,  you can also reset your password from the https://crackerbarrel.achievers.com/beta/forgot-password page. Here, you can choose to enter your email address, and you will receive an email with instructions for resetting your password.
If you continue to have problems, then share your issue in the comment section below.