Cracker Barrel Employee.
Cracker Barrel has created a new version of their online Cracker Barrel employee website, which lets Cracker Barrel employees access to their work schedules online, as well as wage statements (payslips), benefit plans, and all other work-related information.
In this article, we answer all the questions that new and current employees may have about their employement situation. Use the search function at the top of the page to search for answers to a specific problem, or submit a comment in the comment section.

Why Is Our Website Necessary?
Cracker Barrel has been through radical changes with their employee portal, and with the way they communicate online with their workers. New employees can find this overwhelming, and this is where we come in.
We have created a variety of guides to frequently asked questions, all related to your employment at Cracker Barrel. Please use the search function at the top of the page to find the article, you need.
Cracker Barrel Employee – The Front Porch.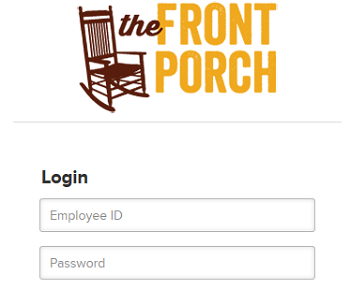 Cracker Barrel is an American restaurant chain, with its headquarters in Lebanon, Tennessee, in the United States. The company specialises in southern cuisine, such as biscuits and fried chicken, and has menus covering breakfast, lunch and dinner. There are currently more than 600 Cracker Barrel chains, employing more than 70,000 people.
The Cracker Barrel Employee Website is an online employee portal, which is often referred to internally as 'The Front Porch'. It used to be accessible from: http://employees.crackerbarrel.com and while employees can still use that URL, it now re-directs to the new login page, which can be found at: https://crackerbarrel.achievers.com/login.
What Can the Cracker Barrel Employee Portal Be Used For?
The Cracker Barrel Employee Portal is similar to other online employee gateways, allowing staff to carry out a range of self-service tasks over the internet. Options here include viewing work schedules, viewing pay slips or wage statements, managing employee benefits and updating personal information and contract details.
In addition, the portal provides company news updates and includes a range of career-based options, allowing employees to apply for vacancies and carry out other similar tasks. There are also self-service options related to paid holidays, as well as ways to get in touch with the human resources department.
Cracker Barrel Employee Login.
How Do I Log In to My Cracker Barrel Front Porch employee account?
To log into your Cracker Barrel employee account, you will need to visit the main login page, which can be found at:
https://crackerbarrel.achievers.com/login
If you are a new employee, you will need to activate your account first. You can do this by entering your Employee ID in the field provided and then entering your temporary password. This temporary password will be "00" + the last four digits of your social security number (SSN) and you will only use this password once.
Click 'Login' and you will then have the opportunity to set up a permanent password to use with the service from your employee dashboard. Make sure this password is unique, but also memorable to you.
For all future login attempts, all you need to do is visit the aforementioned login page and enter your Employee ID and the password you selected into the respective fields, then click the 'Login' button.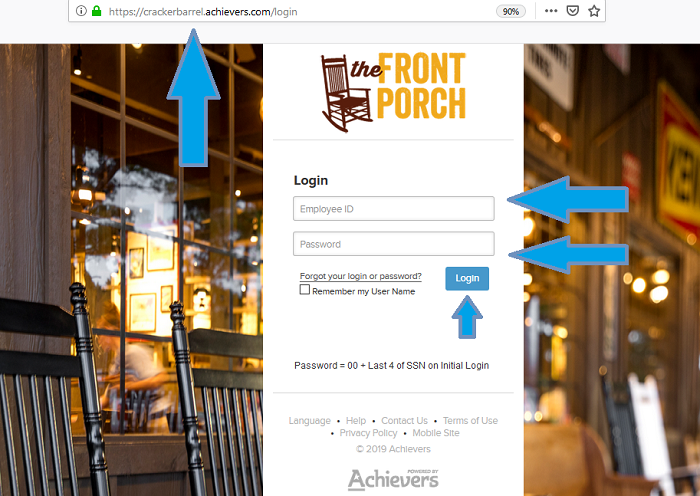 The Cracker Barrel Front Porch Self Service login page can be found at https://frontporchselfservice.crackerbarrel.com/.
Cracker Barrel Employee Login Problems and Solutions.
Occasionally, users may encounter difficulties when attempting to log in to their account. While this can be frustrating, there is usually a simple solution. However, if you are unsure of what the cause of the problem is, it is best to run through the following troubleshooting steps, which cover the most common issues.
The first thing to do is to check that you have successfully activated your account. Users often receive a username and an initial password to do this, but you may instead be required to follow a link sent to your email address and you may need to perform an initial sign on using your Cracker Barrel network login credentials.
Next, you should check that your internet connection and your wi-fi connection are actually working. The easiest way to do this is simply to refresh the login page, or to visit any other website and check that it loads. If the page does not load, the problem is with your connection, rather than with the Cracker Barrel website.
Make sure you are using the right login page: https://crackerbarrel.achievers.com/login
The old login page at: http://employees.crackerbarrel.com should automatically re-direct to this new login page, but there could be a problem with the re-direction process, so it is best to use the direct link. It is also recommended that you update any browser bookmarks to the right URL, in order to avoid running into this problem at a later date.
It is also worth double checking that you have entered the right login credentials. Your password is the one you selected during the account setup process and this is case sensitive. For this reason, you should have CAPS LOCK turned off on your keyboard. On your first ever login, your password will be "00" followed by the last four digits of your SSN.
Finally, you could try some quick web browser-based solutions. Make sure your web browser is updated to the latest version and try clearing your browsing data, cookies and cache before attempting another log in. You could also attempt to sign in using a different web browser, or a different device altogether.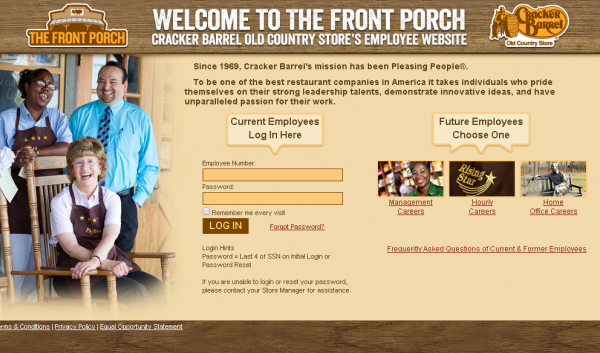 I Have Forgotten My Cracker Barrel Employee Password.
How do I reset my Craker Barrel Front Porch password?
If you have forgotten your password, you can reset it through the platform itself. From the main login page, click on 'Forgot Your Login or Password?' and you should see a request for either your username or the email address that is associated with your account. The next step will depend on which of these you choose to enter.
Alternatively, send an email to: [email protected] with your name, store location, and your employee number. Or call the Cracker Barrel Human Relations (HR) on phone number: 1-877-846-1212, and explain your situation.