How do I recover my Lost Cracker Barrel Employee Username?
If you have not logged in to your Cracker Barrel employee account for a while, and you think you have forgotten your Username, then the Cracker Barrel Achievers portal has an easy solution:
Visit: https://crackerbarrel.achievers.com/
Click on "Forgot your login or password?".
On the next page click on  "Forgot your user name?".
The next page ask you to "Enter the email address associated with your account". This is the email address that Cracker Barrel have on file regarding your employee profile.
Enter your email address and click on "Submit".
You will then get a message saying "Your user name recovery email is on the way".
You will receive a user name recovery email deleivered to your inbox, once Achievers have verified your account. Make sure that you check your spam filter for the recovery email.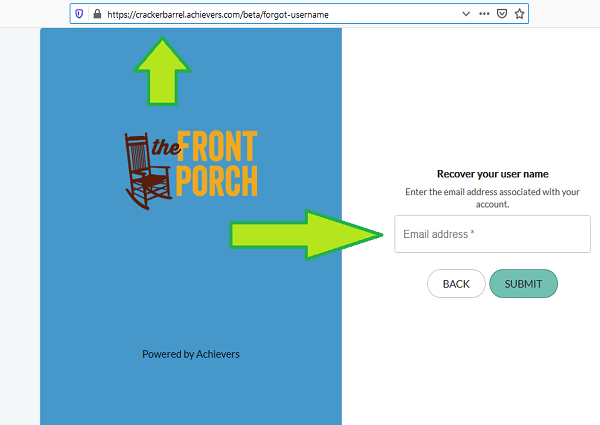 Contact Cracker Barrel Achievers Human Relations.
If you do not receive the recovery email, then contact Cracker Barrel Achivers through the https://crackerbarrel.achievers.com/contact_us page.
On the Contact Us page, click on Chat to chat live with an Achievers expert. The chat function is only open from 9 AM to 4 PM, however.
Outside these hours, you can contact the Cracker Barrel Achievers HR department can be contacted regarding password resets, schedules, or income statements on this email address: [email protected].
If you continue to have Username problems, then ask a question in the comment section below.