Cracker Barrel Employee.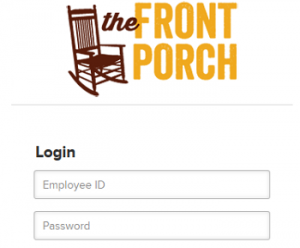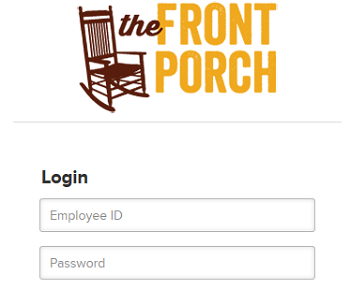 Cracker Barrel has created a new version of their online Cracker Barrel employee website, which lets Cracker Barrel employees access to their work schedules online, as well as wage statements (payslips), benefit plans, and all other work-related information.

Cracker Barrel Employee – The Front Porch.
Cracker Barrel is an American restaurant chain, with its headquarters in Lebanon, Tennessee, in the United States. The company specialises in southern cuisine, such as biscuits and fried chicken, and has menus covering breakfast, lunch and dinner. There are currently more than 600 Cracker Barrel chains, employing more than 70,000 people.
The Cracker Barrel Employee Website is an online employee portal, which is often referred to internally as 'The Front Porch'. It used to be accessible from: http://employees.crackerbarrel.com and while employees can still use that URL, it now re-directs to the new login page, which can be found at: https://crackerbarrel.achievers.com/login.
What Can the Cracker Barrel Employee Portal Be Used For?
The Cracker Barrel Employee Portal is similar to other online employee gateways, allowing staff to carry out a range of self-service tasks over the internet. Options here include viewing work schedules, viewing pay slips or wage statements, managing employee benefits and updating personal information and contract details.
In addition, the portal provides company news updates and includes a range of career-based options, allowing employees to apply for vacancies and carry out other similar tasks. There are also self-service options related to paid holidays, as well as ways to get in touch with the human resources department.
Cracker Barrel Employee Login.
How Do I Log In to My Cracker Barrel Front Porch employee account?
To log into your Cracker Barrel employee account, you will need to visit the main login page, which can be found at:
https://crackerbarrel.achievers.com/login
If you are a new employee, you will need to activate your account first. You can do this by entering your Employee ID in the field provided and then entering your temporary password. This temporary password will be "00" + the last four digits of your social security number (SSN) and you will only use this password once.
Click 'Login' and you will then have the opportunity to set up a permanent password to use with the service from your employee dashboard. Make sure this password is unique, but also memorable to you.
For all future login attempts, all you need to do is visit the aforementioned login page and enter your Employee ID and the password you selected into the respective fields, then click the 'Login' button.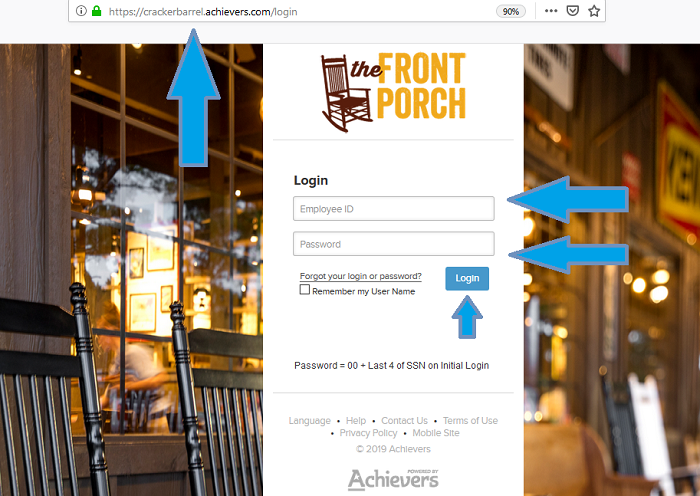 The Cracker Barrel Front Porch Self Service login page can be found at https://frontporchselfservice.crackerbarrel.com/.
Cracker Barrel Employee Login Problems and Solutions.
Occasionally, users may encounter difficulties when attempting to log in to their account. While this can be frustrating, there is usually a simple solution. However, if you are unsure of what the cause of the problem is, it is best to run through the following troubleshooting steps, which cover the most common issues.
The first thing to do is to check that you have successfully activated your account. Users often receive a username and an initial password to do this, but you may instead be required to follow a link sent to your email address and you may need to perform an initial sign on using your Cracker Barrel network login credentials.
Next, you should check that your internet connection and your wi-fi connection are actually working. The easiest way to do this is simply to refresh the login page, or to visit any other website and check that it loads. If the page does not load, the problem is with your connection, rather than with the Cracker Barrel website.
Make sure you are using the right login page: https://crackerbarrel.achievers.com/login
The old login page at: http://employees.crackerbarrel.com should automatically re-direct to this new login page, but there could be a problem with the re-direction process, so it is best to use the direct link. It is also recommended that you update any browser bookmarks to the right URL, in order to avoid running into this problem at a later date.
It is also worth double checking that you have entered the right login credentials. Your password is the one you selected during the account setup process and this is case sensitive. For this reason, you should have CAPS LOCK turned off on your keyboard. On your first ever login, your password will be "00" followed by the last four digits of your SSN.
Finally, you could try some quick web browser-based solutions. Make sure your web browser is updated to the latest version and try clearing your browsing data, cookies and cache before attempting another log in. You could also attempt to sign in using a different web browser, or a different device altogether.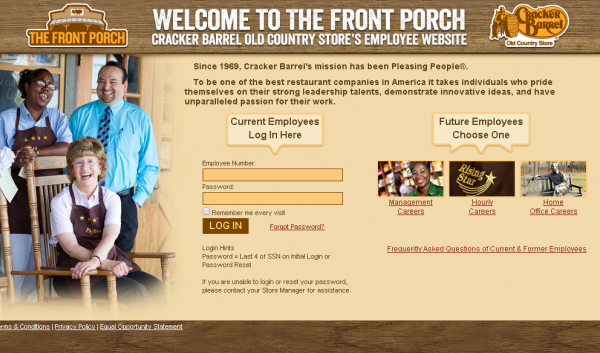 I Have Forgotten My Cracker Barrel Employee Password.
How do I reset my Craker Barrel Front Porch password?
If you have forgotten your password, you can reset it through the platform itself. From the main login page, click on 'Forgot Your Login or Password?' and you should see a request for either your username or the email address that is associated with your account. The next step will depend on which of these you choose to enter.
Alternatively, send an email to: Reset.Password@crackerbarrel.com with your name, store location, and your employee number. Or call the Cracker Barrel Human Relations (HR) on phone number: 1-877-846-1212, and explain your situation.
You can also access the Front Porch Achievers Password Reset page here.
Employees who enter their username will be presented with some security questions. Answer these questions correctly and you should be given the opportunity to choose a new password for future use. Once this is complete, you can sign in using the password you just selected, with this replacing your old forgotten password.
Alternatively, if you opted to enter your email address, you should receive an email with instructions for resetting your password. Simply follow the instructions included within this email and select your new password.
How Do I Recover My Cracker Barrel Front Porch User ID?
If you have forgotten your User ID, rather than your password, you can also recover this through the service. Again, go to the main login page and click on the link labelled 'Forgot Your Login or Password?'
This time, rather than entering either your username or your email address, click on 'Forgot Your User Name?' which should be visible at the bottom of this screen. You will be asked to enter the email address connected to your account and an email containing your username will then be sent to the address you provided.
Cracker Barrel Schedule.
How do I view my Cracker Barrel work schedule online?
In order to view your work schedule, you will need to log in to the Cracker Barrel Employee Portal and then click on the relevant link from your dashboard.
Your schedule should then be displayed, allowing you to see when your shifts are. Alternatively, you can also find out weekly and monthly schedules by calling your manager.
Cracker Barrel Wage Statements.
How do I view my Cracker Barrel wage statements/payslips?
Cracker Barrel employees are able to access wage statements through the online wage statements website at: www.onlinewagestatements.com/cbocs.
To acces your payslips, enter your Username, which is your employee number, followed by your password.
Alternatively, if you are trying to access your W-2 Form, you can do this over the phone by calling the Employment / Income Verification line on: 1-800-240-4367. From there, you will need to request extension 63013.
Cracker Barrel Careers Information and Applications.
If you are not currently an employee of Cracker Barrel, but would like to be, go to the separate Cracker Barrel Careers page, which can be found at: https://crackerbarrel.com/careers.
From that page, you will be able to choose between in-store careers, home office careers and distribution careers. In-store careers centre around activities like serving guests and preparing food, home office careers are focused on supporting the various chains around the country, and distribution careers are based at the main distribution centre.
Once you have selected the path you wish to pursue, click on the 'View Open Positions' button and you will be presented with a break down of the various roles. For example, jobs listed under in-store careers include servers, host and hostess roles, dishwashers, retail sales jobs and various management roles.
Find the job role you want and then click the 'View Jobs' button underneath. The next page will display all of the vacancies related to the role you selected. If there are no vacancies, you can go 'back' on your web browser and try another role, or you can check back regularly so that you can apply when a position does become available.
To actually apply for one of these roles, simply click on the name of the job you are interested in and then read through the information provided. If you are satisfied that you are a suitable candidate, click on 'Apply For This Job Online', follow the instructions that are provided, complete your application, and then submit it.
What Benefits and Perks Does Cracker Barrel Offer Employees?
Cracker Barrel currently offers a range of different benefits and perks for employees. One of the most notable is the 401(K) plan, which helps to ensure employees are financially secure in retirement, while the Cracker Barrel Cares scheme helps to support any employees that are experiencing financial hardship.
Healthcare benefits for Cracker Barrel employees include basic health insurance, counselling, a vision plan covering the cost of basic eye exams, a maternity support scheme and a dental plan. Life insurance coverage is also on offer, while there are a range of options for employees who need assistance with childcare.
In terms of career development, coaching and mentoring services are available and the PAR (Personal Achievement Responsibility) scheme helps employees to track their own development and earn new perks as they progress. Further benefits include paid holidays, which are based on time worked, as well as staff discounts, based on PAR level.
Cracker Barrel Human Resources Contacts.
How Do I Contact the Cracker Barrel HR Department?
At times, it may be necessary to get in contact with someone from the human resources department, or the Cracker Barrel management team. If your question or comment is related to the employee website, the best option is to send an email to: thefrontporch@crackerbarrel.com or to use the online chat function, which can be found here.
The member experience team will reply to emails as quickly as possible, while the live chat function is available from Monday to Friday between the hours of 9 am and 4 pm ET.
If you would prefer to get in touch over the phone, the best phone number to call is 1-800-333-9566.
If your question is related to your pay statements, it is best to call 1-800-240-4367 and request extension 63013.
Some employees may prefer to take their question, comment or query to the main Cracker Barrel headquarters and the best way to do this is through the mail. Both a standard mailing address and a PO Box are available:
Cracker Barrel Old Country Store, Inc. 305 Hartman Dr, Lebanon, TN 37087.
Cracker Barrel Headquarters P.O. Box 787 Lebanon, TN 37088.
The telephone number for the corporate office is: (615) 444-5533.
Finally, you can also contact Cracker Barrel online via Twitter or Facebook.